I have a confession to make. There was a time in my life when entertaining at home stressed me out. A lot. And it was my own fault.
I made entertaining too complicated.
Every gathering turned into a major party, because I didn't understand the joy that comes from connecting with just a few friends over dinner. I pulled out my fancy cookbooks and tried out fancy new recipes that didn't always work out. I scrambled to finish complicated decorations and my mood always suffered. I smiled on the outside, but by the time my guests arrived, I was stressed and tired. It was impossible for me to relax and enjoy my company.
The more I tried to entertain this way, the more reluctant I became. It was too hard.
Then something began to change. People came into my life who made it look easy, so I studied them. And I began to realize that the best hostesses weren't the ones who cooked a fancy meal or had an immaculate home. The best hostess was the one who enjoyed connecting with her company. All the other stuff was unimportant.
In July of 2008, my husband and I moved into a new house. We were convinced that the Lord wanted us to be very open with our home. We needed to connect with our family and friends in a more personal way.
I knew that I had to keep it simple if we were going to open our home to company more frequently. Summer has become my favorite time to entertain and this is my go-to meal. It lets me spend my time focused on my guests and not myself.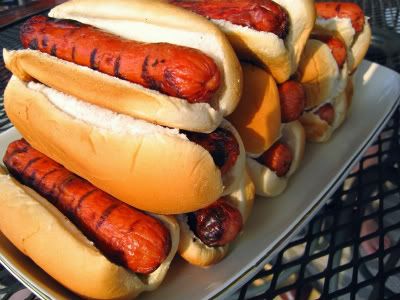 Hot dogs on the grill. That's all. Not hamburgers, hot dogs, chicken and kielbasa. Just hot dogs. I'm a bit of a hot dog snob, so I get the all meat ones from the butcher. But they're still just hot dogs.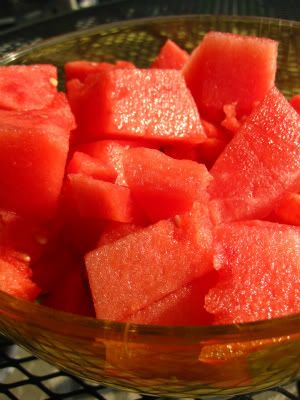 A big bowl of juicy watermelon. Sometimes it's cantaloupe or honeydew depending on that I find at the store. Not fancy tropical fruit salad with lemon basil dressing. Just a big bowl of cut fruit. Delish!
Corn on the cob served straight from the stove. Nothing screams summer to me like yummy corn on the cob rolled in butter and sprinkled with salt. And nothing could be easier to make. Just shuck it on the back porch (I sometimes ask my guests to do this) and steam it in a big pot for 5-6 minutes. Done.
The condiments go right on the table. No sense dirtying up more dishes for serving ketchup.
Dessert is easy too. I let someone else bring it. Someone always asks "What can I bring?". So I ask them to bring dessert and I always have popsicles in the freezer for the kids. Easy as pie…or cake…or pudding.
And, in case you're wondering, that lemonade up there is Country Time.
Keeping things simple has made all the difference for me. I love being able to connect with my guests when I'm not stressed and tired.
Linking up to Centsational Girl's Summer Linky!

This article was published last summer at The Reluctant Entertainer. It's just as true now as it was then, so I wanted to share it here.
Check out Sandy's 30 Days of Summer Entertaining for lots of beautiful inspiration.
What's you're favorite summertime dinner?